Amer Greens
Veg plate from ₹ 800
Non veg plate from ₹ 1,000
1 hall 1000 people
Ratanpur, near Gyan Ganga School,Bhopal, Madhya Pradesh 462046
+91 755 401 2770
+91 96300 97155
https://www.facebook.com/pages/Hotel-Amer-Greens-Bhopal/153039198098178/
http://www.amergreens.com/
green.amer@gmail.com
Banquet hall
Courtyard by Marriott Bhopal
Price from ₹ 1,200/person
3 halls for 110, 240, 250 people
Noor-Us-Sabah Palace
Price from ₹ 1,150/person
3 halls for 50, 150, 450 people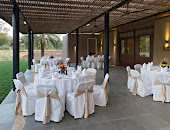 Jehan Numa Retreat
Price from ₹ 1,250/person
1 hall for 300 person.
Food service
vegetarian and non-vegetarian
Type of cuisine
Continental, South indian, Chinese, Mughlai
Allowed to bring own food
No
Allowed to bring own alcoholic beverages
No
Decoration rules
Interior decoration is allowed, Exterior decoration is allowed, Only approved decorators may be used
Services for extra charge
Cake, DJ, Live music
Allowed to bring own vendors
Cake, DJ, Live music
Payment methods
Cash, Visa, MasterCard
Standard double room price
₹ 4,150 – 10,500
Special features
Air Conditioner, Wi-Fi / Internet, Stage, Projector, TV screens, Bathroom
Amer Greens is located just 12 km away from the popular Bhojpur Temple in central Indian's capital.
What distinguishes this hotel from others is the attention to details and professionalism of the hight class
hotel's staff. What can this place to offer to celebrate the most important day of your life? Firstly, it is 54
hotel rooms designed with splendid interiors for the most comfortable accomodation of your guests and,
of course, admirable wedding hall for 1000 people. Exquisite ceiling with posh chandeliers make the
room full of light, the floor and walls are made in yellow and beige. Besides, the hotel offers also
gorgeous outdoor lawn for those who fond of open spaces. Among additional facilities of the hotel are
gymnasium, recreation center and kids zone. Amer Greens is undoubtedly famous for its multi cuisine,
here you can find such types of it as:
Continental;
South Indian;
Chinese;
Mughlai.
Read more
Capacity 1000 people
Price per plate, veg from ₹ 800/person
Price per plate, non-veg from ₹ 1,000/person